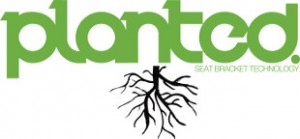 Planted Technology, a brand that defines itself by allowing drivers to keep their seats firmly "planted" in their vehicle. Planted makes their brackets from 3/16″ thick steel and finishes them with a black powder coat for an attractive look and extra rust resistance.   Their brackets are more durable than any other brand we have come across and will fit most seats.
The Planted bracket is built to accept sliders from most major seat manufacturers like Bride, Cipher Auto, Cobra, Corbeau, Momo, OMP, Racetech, Recaro, Sparco, Status and more. Extra material is provided for direct seat or side mount applications where eliminating sliders is preferred.
Because Planted brackets are Made in the USA, turn around time on manufacturing is fast. If a bracket is not in stock at the time an order is placed, one is custom made, powder coated, and shipped out in 2 weeks or less.
Planted is always adding more brackets to their fitment guide.  If you don't see your vehicle contact us and we'll check to see if brackets are currently being produced for that vehicle or have them add it to their list of fitments to research and develop.
Here are a few of the current brackets and accessories we have listed on our site and more will be added shortly as we prepare to clean up our product descriptions to offer you the best shopping experience possible:
Planted Harness Reinforcement Plate – 2 inch x 3 inch – Black Powder Coated Steel – Part # PRP
Planted Seat Spacer – 1/4 inch Thick – Black Powder Coated Aluminum – Part # PSP.25
Planted Seat Bracket – Acura Integra (1990-1993) – Driver Side (Left Side) – Part # SB030DR
Planted Seat Bracket – Acura Integra (1990-1993) – Passenger Side (Right Side) – Part # SB030PA
You can find all of our current Planted products listed here.
We will be updating our list of completed products so check back soon…